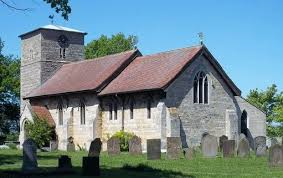 Introduction
There have been at least three churches standing on this site, prior to the one here today. Apart from the tower, this church was rebuilt by J.T. Lee of London in 1903-4. The inscribed foundation stone is in the east wall. Before that, the main body of the church was in such a state of disrepair that no single item of the building or furniture could be used again, so all but the tower had to be demolished. The Order of Saint John of Jerusalem contributed £50 towards the rebuilding of the church and King George V (then Prince of Wales,) as Grand Prior of the Order, gave £10. More than £2,000 was raised to provide a worthy building.
The Tower dates back to Norman times and extensive repairs to the outside were accomplished in 1924 at a cost of £168. There is reference to a sun dial in the west wall of the tower, marked 'Dial made in 1734.'
There is a Mass Clock or Scratch dial on either side of the porch, the one on the right being the most visible.
The Pulpit and Choir Stalls were carved at the School of Carving under the direction of Rev. T.R. Seddon of Chelmarsh, Salop and were a gift from the Ladies of the Manor.
The Standard hanging in the chancel was left to the church by one of the Bailiffs of Eagle.
The Rood Screen was given in memory of Walter Baldock, former Schoolmaster of Eagle. He died in1935.
The Organ was built by Cousans of Lincoln and dedicated on May 1950. Due to a grant of £3 000 from the Foundation for Sport and the Arts and a donation from the Lord of the Manor, the organ was refurbished at the beginning of 1997 and was rededicated by the Archdeacon of Lincoln, the Venerable Arthur Hawes.
See All Saints Church on Wikipedia.
VICAR;
Revd. Andrew Vaughan
The Vicarage, Station Road, Swinderby.
Tel. 01522 868430, Mobile 07923546599
CURATES;
Revd. Jim Rooke N.S.M. Tel. 01522 788315
Revd. Paulette Walker. Tel. 01522 520225
ASSOCIATE PRIEST;
Revd. Fran Hinton. Tel. 01522 688886
LAY READER;
Mrs Pamela Broughton. Tel. 01522 878961

METHODIST MINISTER;
Revd. Claire Simpson. Tel. 01522 681655
PARISH CHURCH MAGAZINE EDITOR;
Mrs Jean Roberts
26, Scarle Lane, Eagle, Lincoln LN6 9EJ
Tel. 01522 868797
CHURCHWARDENS;
Mr, C. & Mrs S. Stiles, 19, High Street.
Tel. 01522 869296
Mrs. C. Munks, Thorpe Lane Farm.
Tel. 01522 868253
Miss J. Whitehead, 14, Church Lane.
Tel. 01522 868733